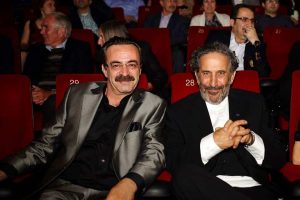 On the 8th of May 2015, a new comedy movie has been released in Turkey, titled: Niyazi Gul dortnala, or Niyazi Gul the galloping Vet, in which Kevork Malikyan plays the role of the butler (Suleyman). This movie is also participating in the current London Turkish Film Festival which is an annual event marking its 20th year this year, taking place from the 7 till the 17th of May 2015. This Festival promises to be an exciting and ground-breaking event, opening up the new trans-cultural Turkish cinema to new audiences in a range of venues across London. Scene from the movie.
After an absence of 21 years Kevork Malikian, has returned to turkey and currently residing in İstanbul. The first reason he moved back to Istanbul, was to work with his friend and colleague Haluk Bilginer and Atoyun Atolyesi, appearing in Anthony & Cleopatra, representing Turkey at the Globe to Globe Shakespeare Festival in 2012. He still teaches acting in the University of Istanbul. He is also working on an upcoming series for Turkish TV nowadays, to be released in September 2015.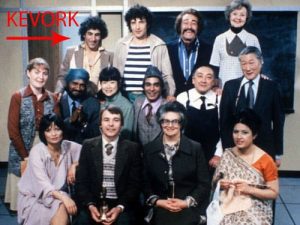 Those of you who are born in the seventies surly remember the hit Television series "Mind your Language". A series taking place in a class of English language for foreigners that we used to wait for, after having read in the cast that there was an Armenian actor who had taken the Greek student's role. Our star was kevork Malikyan, the Romeo of the class who befriended the Italian Student and tried to win the heart of the French lady.
Biography and Filmography.
Kevork Malikian was born in Dikranagerd on the 2nd of June 1943, Turkey. When he was 10 his father, who was unable to send him to school for financial reasons, decided to send him to Istanbul, to study in the Armenian Orthodox Church Holy Cross Seminary of Iskudar, so that he may become a priest. First he was taken into Karageuzian Orphanage in Sisli for a couple of years, and later on he joined the Seminary.
He studied English with an Anglican priest who was an Oxford graduate. He even played Richard, in Shakespeare's "Richard III" when he was 16 while studying in the seminary. His Anglican teacher was so amazed by his performance that he advised Malikyan to become an actor and not a priest.
The patriarch gave him the choice to decide, between priesthood and acting, but Kevork was in doubt he could make it financially, but thanks to Father Harding, a British priest, he moved to London, Britain in 1963, to study drama on scholarship, at Rose Bruford College. He was certified with an acting and teaching diploma.
In 1965 he married his beautiful wife Maida of Armenian descent, and together they have a daughter Sonia and a son, artist (painter) Sevan Malikyan.
Internationally, he has worked with Steven Spielberg, Roger Moore, Alan Parker, Sigourney Weaver, Michael Caine and Anthony Hopkins, Liam Neeson…
In 1989, he played Kazim in Harrison Ford's "Indiana Jones and the Last Crusade." Originally he auditioned for the role of Sallah in Raiders of the Lost Ark (1981), but lost to John Rhys-Davies when he missed an additional audition. However, Director Steven Spielberg remembered him, and cast him as Kazim years later in Indiana Jones and The Last Crusade.
He played a number of roles in the Royal Shakespeare Company production, Arabian Nights (December 2009 – January 2010), at the Courtyard Theatre, Stratford-upon-Avon, Warwickshire.
Henry IV, Part 1 and 2 (2012) at the Shakespeare's Globe Theatre.
He has also appeared in many British and American ,feature films, tv films, tv series,both for ITV,and the BBC.
The Man Who Haunted Himself(1970)
Midnight Express (1978)
Pascali's Island (1988)
Indiana Jones and the Last Crusade (1989)
Belly of the Beast (2003)
Flight of the Phoenix (2004)
Renaissance (2006)
The Palace (2011)
Taken 2 (2012)
Exodus: Gods and Kings (2014)
Mind Your Language Series
Auf Wiedersehen Pet, Series 1, Episode 11
Who Pays the Ferryman?, Episode 8: The Daughters of Themis
The Detectives, Series 3, Episode 3: Art Attack
The Professionals, Series 2, Episode 9: Blind Run and Series 3 Episode 2: Backtrack